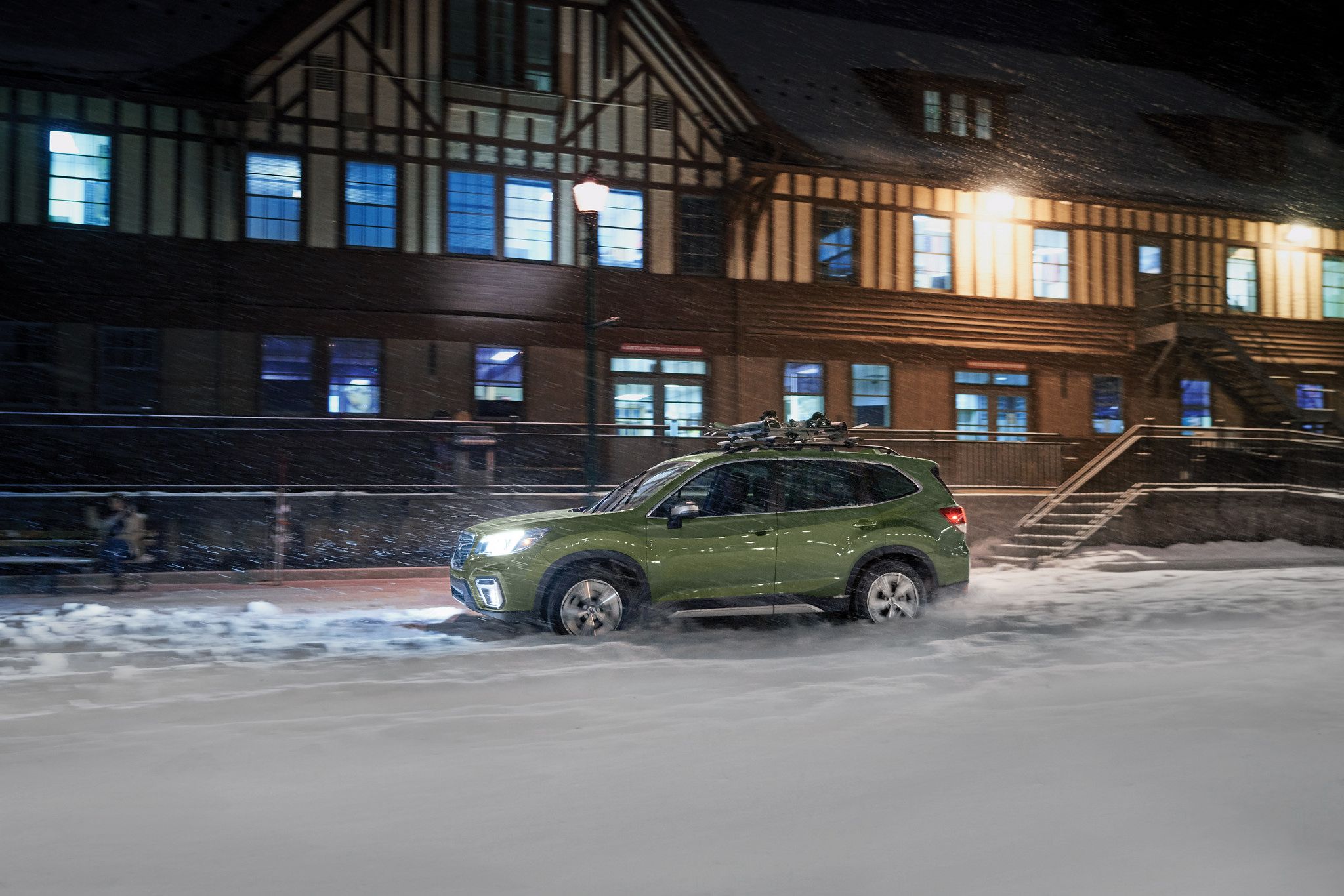 Whether you're navigating city streets or making a weekend escape, you need optimal traction and an even distribution of power to drive with total confidence. That's why all Subaru vehicles come standard with Symmetrical All-Wheel Drive. This unique system offers maximum power transfer and traction as well as improved efficiency, stability, control, and safety.
Power and Traction
Subaru Symmetrical All-Wheel Drive delivers power to all wheels simultaneously. This facilitates maximum traction and acceleration for a drive that is exceptionally responsive, engaging, and controlled. Even in slippery conditions, power is actively distributed for the best traction possible. 
Efficiency and Durability
Symmetrical All-Wheel Drive lines the engine up directly with the drivetrain, providing a seamless transfer of power from the engine to all four wheels at once. Other AWD systems utilize additional components to route power to the wheels, but Subaru Symmetrical All-Wheel Drive aims for improved efficiency and durability: Fewer additional parts means less power-loss and lower maintenance costs.
Stability and Control
Because of the balanced design of Symmetrical All-Wheel Drive, Subaru vehicles achieve greater stability and control, even in difficult conditions. While front-wheel and rear-wheel systems frequently lead to under- or over-steering, Symmetrical All-Wheel Drive generates optimal traction, allow for a better grip on the road in low-traction conditions such as rain, snow, mud, and ice.
Enhanced Safety
Symmetrical All-Wheel Drive is a holistic system that works with other in-vehicle systems, including safety features like Electronic Brake-force Distribution and Vehicle Dynamics Control. The result is a driving experience that is more engaging, more stable, and considerably safer. Even in poor weather conditions, Symmetrical All-Wheel Drive works in tandem with various safety systems to keep you safe behind the wheel.
Our many new and used vehicles at Fox Subaru come with Symmetrical All-Wheel Drive.
Make an Inquiry
Hours
Monday

08:30 AM - 08:00 PM

Tuesday

08:30 AM - 08:00 PM

Wednesday

08:30 AM - 08:00 PM

Thursday

08:30 AM - 08:00 PM

Friday

08:30 AM - 08:00 PM

Saturday

09:00 AM - 05:00 PM

Sunday

Closed