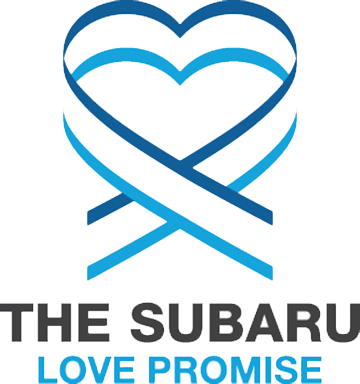 What is the Subaru Love Promise?
Subaru and our retailers believe in making the world a better place and the Subaru Love Promise is our vision of respecting all people. This is our commitment to show love and respect to our customers and to work to make a positive impact in the world.
How is Fox Subaru dedicated locally to the Love Promise?
Our Love Promise can be seen in various partnerships with local charities and non-profits. We're grateful for the opportunity, not only to be a part of our community, but to serve it as well.
Cayuga Community College, Cayuga Onondaga BOCES, Auburn Enlarged City Schools, Auburn Education Foundation, Tyburn Academy
Auburn Double Days Baseball, Auburn Babe Ruth Little League, Merry-Go-Round Playhouse, Auburn Police Union, Majorpalooza
Auburn Community Hospital, American Cancer Society, Auburn YMCA
Love Promise Stories from Fox Subaru
Subaru and Fox Subaru believe in making a positive impact on the communities in which we live and work. We uphold that belief through our Love Promise Community Commitment. Every month, we select inspiring stories from customers and partners from around our area who strive to support our collective commitment and feature them here
HELPING THE FINGER LAKES SPCA OF CNY DO ITS JOB! - Carol R
No one will dispute the fact that 2020 has been a difficult year – across the board! Every aspect of our lives has been affected – and that includes the canine and feline lives that we are dedicated to serving and saving. The Finger Lakes SPCA of Central New York takes in hundreds of dogs and cats each year and works diligently to find them new and loving homes. While our COVID-19 policy has dictated that we do not hold off-site events – our great friends at FOX SUBARU have been incredibly supportive of our efforts – as they always are. From calling us to make sure we are on schedule with our reporting to just plain being there – they have been hugely supportive of our efforts in our community for years – and hopefully for years to come. We hope that in the future we will be able to visit the showroom with dogs and cats that are available for adoption – as we have done in the past. Those visits resulted in numerous adoptions – and we were very grateful for the opportunity. A Few of Our Success Stories! Kato - Removed from a cruelty/neglect situation. He is now safely home with his new family and fur-friends! Willow - Senior gal who became homeless when her elderly owner passed away. It took us a while but we found the perfect home for Willow - and she's living large! Jake - Jake is a young man who was adopted from the FLSPCA-CNY but was returned through no fault of his own. His new family found him and he is now home for the holidays. Thank you Jane Fox, Kim and all the others at FOX SUBARU who help us do our job and do it better – caring for our community's animals and finding them new loving homes. You are the best!
---
Fox Subaru brings warmth to cancer patients - Jamie R
On Thursday, July 11, 2018, the West Michigan Chapter and Fox Subaru has the pleasure of delivering 80 blankets to Spectrum's Lemmen-Holton Cancer Pavilion as part of the Subaru Loves To Care program. These comforting gifts were accompanied by personalized messages of hope written by the customers and staff of Fox Subaru. This incredible act of generosity was warmly received by the Lemmen-Holton Cancer Pavilion staff who were thrilled to distribute these comforting gifts to their patients and to Suzanne who is currently fighting cancer at Spectrum. Many thanks to everyone at Fox Subaru and Spectrum's Lemmen-Holt Cancer Pavilion not only for a memorable day, but for supporting LLS's mission to cure blood cancers and improve the quality of life of patients and their families.
---
Our 9th Subaru - charles B
We love Subaru. Our first Subaru was a used 84 hatchback - great little car. I drove it 25 miles to work, rain or snow for years & years. I even had a tourquois 4 dr. Justy ! Another super car. 4wd & 43mpg ! We are older now & have moved to the village from way out in the country. Out there we really needed 4wd. Now in the village our driveway goes down hill to the garage, so we still like 4wd. We got our Crosstrek serviced today in Auburn & they did a good job spiffing her up. We have a Thule box for summer & the cross trek is best for ease of loading the Thule box. LOVE SUBARU Charlie Bentham PS My wife told me Subaru gives the 10th Subaru for free ? Also you do not yet have me favorite option…… A pull out steering wheel. I have long legs but short arms. Many antique cars had pull out steering wheels.
---
Fox Subaru & SOA donates $16,306 to Auburn YMCA - Chris N
Fox Subaru and Subaru of America are excited to announce this year's Share The Love contribution in the amount of $16,306 will be donated to the Auburn Y.M.C.A.. "Fox Subaru has been proud to be a part of the Auburn community for many years and in conjunction with Subaru of America's Share The Love program, we are excited to be able to give back to the Auburn community that we proudly support," explained Bill Fox, President of Fox Subaru. "This year," noted Jane Fox, "We are really excited to honor the Auburn Y.M.C.A. with this contribution. They provide tremendous services for families and people of all ages in our community." These funds will enable the Auburn Y.M.C.A. to provide memberships and programs for youth and families who would not otherwise be able to afford the Y.M.C.A. These programs include preschool, school-age childcare, family programs, health, fitness and active older adult programs, aquatics, camping, as well as youth sports. They strengthen the community through Youth Development, Healthy Living, and Social Responsibility. Fox Subaru and Subaru of America are pleased to be able to donate a Share The Love contribution to such a worthy community organization. Pictured from left to right are Jack Young, with Subaru Distributors Corp., Adam Kovalsky, with Subaru Distributors Corp., Amy Wallner, with the Auburn Y.M.C.A., Chris Nucerino, with the Auburn Y.M.C.A., and Bill Fox, President of Fox Subaru.
---
Fox Dealership Hosts Fundraiser for Make-A-Wish - Dyana S
The Fox Dealerships, led by Jane and Bill Fox, held their second annual Custom Car Show on Aug. 6th, 2016, and this year focused on making wishes come true. The show, held at Fox Toyota Subaru, 188 Grant Ave. Auburn, NY, featured custom cars and trucks, originals, rat rods, and motorcycles. Representing Make-A-Wish Central New York at the event were local Wish Kids Caden Schmitt, whose wish to see cheetahs in Africa came true last year; and Chase Coopper, whose wish to go on a Nickelodeon cruise came true in 2013. Proceeds from the $10.00 per-person admission were directed to Make-A-Wish Central New York. The event raised slightly more than $6,300.00 for the organization. Make-A-Wish Central New York is a nonprofit organization dedicated to granting the special wishes of children between the ages of 2 1/2 and 18 who have life-threatening medical conditions. Since its inception in 1985, the chapter has granted more than 1,600 wishes throughout its 15 county region, which includes Broome, Cayuga, Chenango, Cortland, Herkimer, Jefferson, Lewis, Madison, Oneida, Onondaga, Oswego, Otsego, St. Lawrence, Tioga, and Tompkins counties. For more information about Make-A-Wish Central New York, visit cny.wish.org
---