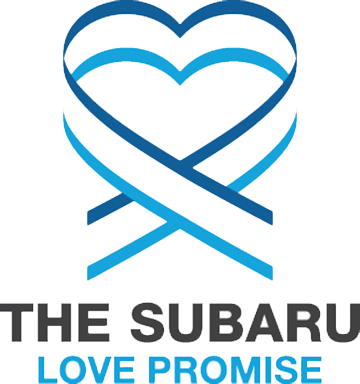 What is the Subaru Love Promise?
Subaru and our retailers believe in making the world a better place and the Subaru Love Promise is our vision of respecting all people. This is our commitment to show love and respect to our customers and to work to make a positive impact in the world.
How is Fox Subaru dedicated locally to the Love Promise?
We believe being good ambassadors in the community is important. The Subaru Love promise commitments are a great way to show the good people in Auburn that we care.
Love Promise Stories from Fox Subaru
Subaru and Fox Subaru believe in making a positive impact on the communities in which we live and work. We uphold that belief through our Love Promise Community Commitment. Every month, we select inspiring stories from customers and partners from around our area who strive to support our collective commitment and feature them here
ATHENA - A JOURNEY OF LOVE - Carol R
We first met our darling ATHENA when she was removed from a hoarding situation and brought to the Finger Lakes SPCA of Central New York. She had spent her entire life chained to a cage on the front porch of a residence that had been condemned by Codes Enforcement. Unfortunately, there were many cats in this residence and ATHENA was not fond of cats. Because she was aggressive towards them, her owner locked her in the cage. She suffered through cold and snowy winters and blistering hot summers until she was finally brought to safety at the SPCA. We fell in love with her! It was hard not to. And the feeling was mutual. ATHENA immediately began her journey through rehabilitation. She went through the SSP - Shelter Spa Program. Vaccinations, treatments of all kinds, grooming, spay surgery, microchipping and more were on her "to do" list every day! ATHENA finally completed that program and embarked on her journey to a new home. That journey unfortunately took much longer than expected. For nearly one and one-half years ATHENA spent her days and nights in her kennel condo dreaming of her new home. It just wasn't happening. Her volunteers took her out for walks every day. She went on short day-trips to Lowe's, Hoopes Park, Home Depot and other local retailers where she showed off her good behavior and amazing good looks. She had the benefit of a trainer and learned so much. ATHENA got A+ grades! But, nothing seemed to work for ATHENA. She, and all of her Shelter people, despaired of her ever finding her forever home. But we never gave up. How could we? ATHENA is extraordinary and we would not rest until she was finally home. A major concern we had was that ATHENA was being overlooked because of her breed. She is pitbull and as we all know, pitbulls have e a "bad-rap." A very undeserved one at that. Then, one day it happened! He was looking for a friend. He was looking for a walking buddy! He was looking for his next best friend. And he found ATHENA in our Shelter. It was love at first sight and they have a bond that can't be broken. After one and one-half years ATHENA Is finally home. Sincere thanks to our amazing friends at FOX SUBARU for their continued support of our programs and promoting our efforts to save lives. They are the best!

---
It's Never Too Late for Love! - Carol R
Several months ago, our Shelter took in two senior dogs - Lucy and Rosie. Their very elderly owner had become unable to care for them properly. We were happy to have them and began preparing them for adoption. The first thing we needed to do was get Lucy to a groomer. She was matted right down to her flesh and was in pain even from walking. A very generous volunteer treated Lucy to the best "spa day" ever! That grooming transformed Lucy in so many ways! She was able to run and play without being in pain from the matting and she became a very happy senior citizen of our Shelter. Lucy and Rosie waited and waited for the right adopter to come along. And waited and waited more. We became concerned that the right family would not come along and that these sweet little girls would languish in the Shelter. While they were well-cared for, had great nutrition, plenty of volunteers to shower them with love and attention - not being in a home of their own was a problem for them and for Shelter staff. We worried about them and wondered if they would just continue to grow older in the Shelter without realizing the comforts of home again. While we were willing to adopt Lucy and Rosie out separately, we hoped and prayed that they would go home together. To separate them at this stage in their lives would be difficult at best for them. Then - it happened!! The most wonderful adopter applied to adopt both girls! She was approved and the girls are now safely home in a loving home environment and are doing beautifully. We are incredibly grateful to the family that adopted Lucy and Rosie. Because of their "senior" status they did run the risk of being overlooked. But their hero - and yes, our hero too - proved that it's never too late for love!! Finally, because of staff concerns about COVID we were unable to participate in an outreach event with our great friends at FOX SUBARU. We are hopeful that we can do so in the future.
---